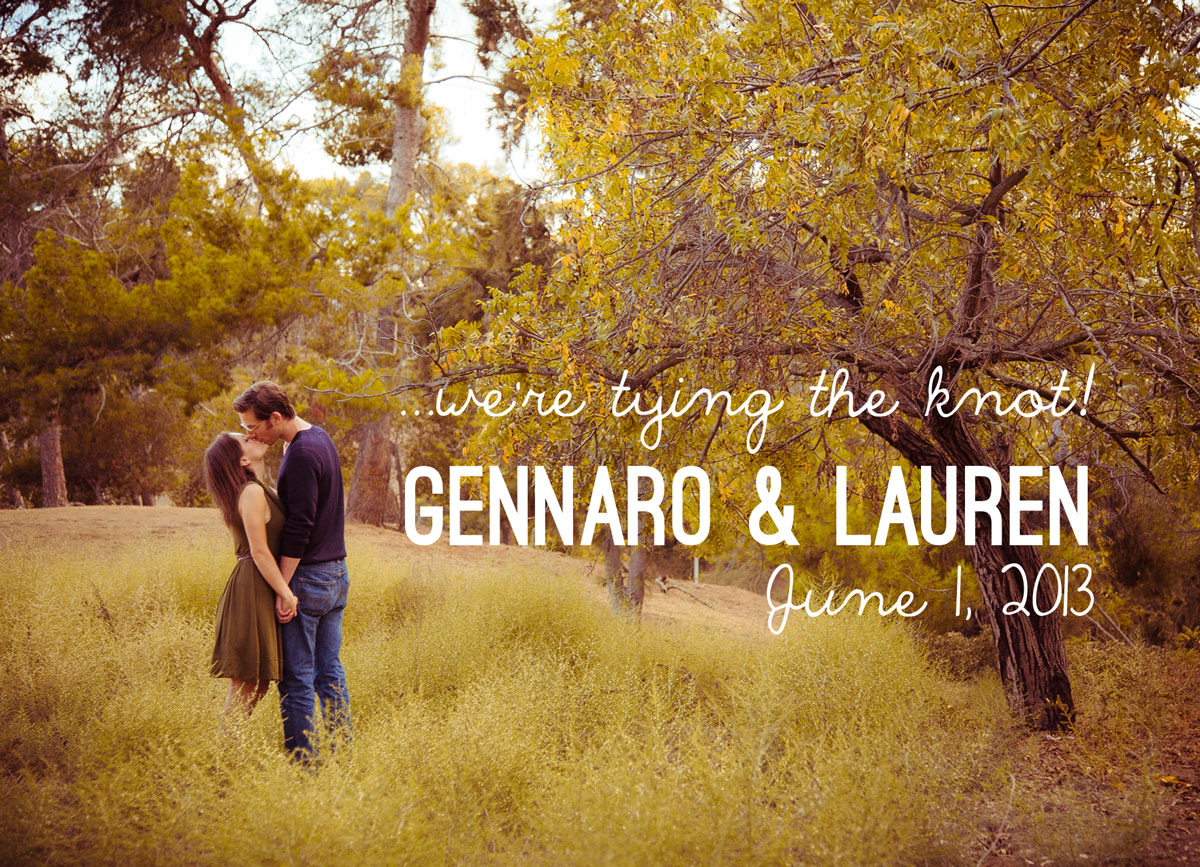 Gennaro and Lauren
June 1, 2013
Welcome to the digital home of Gennaro and Lauren's wedding! We cannot wait to celebrate this important day in our lives with all of you. While you patiently count down to June 1st, please take time to explore our site! RSVP coming soon!
The Juicy Details
It began…
On an ordinary night late into the spring of 2007, Lauren tagged along with USC dorm-mates to a quiet get-together where Gennaro and his friends were hanging out. Although Lauren was uncharacteristically shy while sitting around the outdoor fire-pit, Gennaro had taken notice. He waited through the summer, and when school resumed in the fall, Gennaro asked Lauren's roommate about a possible courtship. The roommate replied that the cards didn't look good for him.
Then, the universe aligned when one of Lauren's lacrosse teammates needed a puppy-sitter for her adorable, but tragically-named malti-poo, Reggie Bush. Suffering from furry-companion withdrawal, Gennaro came over to play with little Reggie. Minutes stretched to hours as Gennaro and Lauren talked, listened to music, and bonded over Led Zeppelin and The Beatles. They never looked back.
Years later,
After each graduated from USC and transitioned into USC staff-members, the couple took a 2011-2012 winter-break trip to Peru. Suspiciously, Gennaro cautiously carried a partially-wrapped (the TSA doesn't like wrapped parcels) gift throughout the entire trip. After visiting Lima and Arequipa, trekking up and down Colca Canyon, and exploring Cusco and the ruins at Machu Picchu, the moment finally came.
On the January 6th morning of Lauren's birthday, the sun shone on Machu Picchu, a welcome change from the rain the day before. After taking a well-heated bus back to Cusco, the couple lucked into a table for two at the nicest restaurant in town, Chi-Cha. Gennaro later confessed that he had planned to propose on the way home in one of the city's many beautiful plazas, but the rain had start up again and Lauren was very unhappy about how wet her feet were in her Toms, her "nice" shoes for their trip.
And so,
Back in the safety of the hotel room, Lauren got her long-awaited birthday present. First came a poem to "Lauren, My Love," followed by the most thoughtful surprise. The parcel Gennaro had been so carefully guarding was the wishbone Lauren's Grandma had given her for Christmas from the Thanksgiving she had spent abroad; Lauren had never been able to wish on it. Gennaro explained, "I know how much she means to you, and I thought she should be here." As Lauren's tears subsided, he asked her to be his wife, the final line of the poem. They wished on the wishbone, and as Lauren got the bigger half, Gennaro stated his relief: "My wish already came true."